New Website Increases Functionality for Oliver Finn Insurance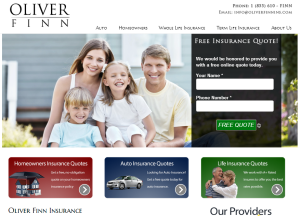 When consumers go looking for insurance, they aren't just looking for information about pricing. Most people need detailed information about the plans themselves, in order to determine whether or not they actually need insurance. Many are also looking for a company that they can build a relationship with, rather than one that treats them as a nameless, faceless number.
Oliver Finn Insurance's new website is exactly that website. Not only can potential clients obtain a free quote for homeowner's, auto, and life insurance, they can read about the features of every type of insurance. With all of this information at the clients' fingertips, they can easily educate themselves about the need for different kinds of insurance, what exactly the plans cover, and even how long most plans last. The new website even provides a list of questions that every person should ask his agent before purchasing a policy.
Unlike other insurance companies which will only provide their clients with information that ensures a sale, Oliver Finn is committed to providing their clients with the best and most current information, so even first-time buyers can make informed decisions about which policies to purchase. Clients come first, as the webpage says, because companies can only really benefit when their clients are honestly taken care of.
Buying insurance can be a daunting task. There are so many companies and providers out there, looking to make a buck off of the naivety of people who just don't know any better. Oliver Finn believes that this can be avoided. By running a company founded on integrity and honest, this company knows that really protecting what is most important to their clients is ultimately the best thing for their business.
With this new, more navigable website, loaded with important information, Oliver Finn Insurance cane provide better service to their existing clients and help new clients learn about insurance and the necessary policies.
The website developer responsible for Oliver Finn's beautiful new website is Aginto Solutions, a website development firm based in Sarasota, Florida. Aginto Solutions provides website building, management, marketing, and search engine optimization programs to small businesses.