Car Dealer
Website Design
We've got all the right tools to help your dealership earn more business with a custom auto dealer website design. Our award winning design team combined with our experienced marketers will develop a winning strategy to bring you more qualified, ready to buy.
Custom design created around your demographic.

Increase website leads, appointments & sales.

Enable customers to browse inventory online.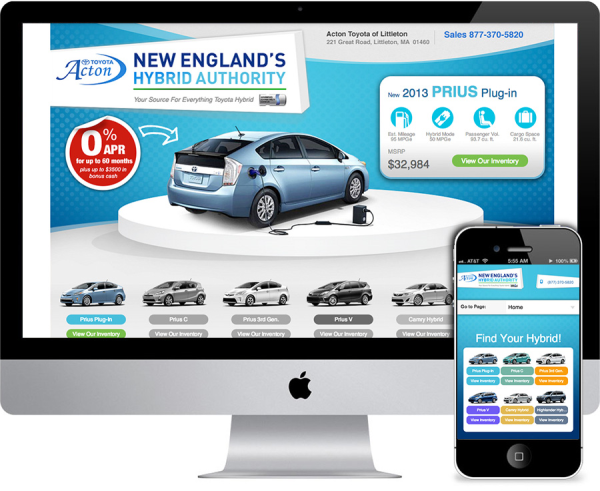 Car Dealer Website Designs That Generate Leads
Click below to get started, or call (888) 693 – 5965
We Build Successful Partnerships
[layerslider id="4″]
Contact Aginto Solutions
You'll be glad you did.
Fill out the form below to contact us and one of our representatives will contact you soon.
You can also reach us by phone using our toll-free number below.
[contact-form-7 id="7113″ title="Contact form 1″]

A Successful
Car Dealer Website Design:
Is 100% Mobile Responsive
We live in a world of device multiplicity. A single shopper may browse your inventory on a tablet at breakfast, visit your hours and directions page on their phone during their commute, and then jump over to a laptop to check out your vehicle photos at work. Having a multi-screen strategy is vital to the success of your dealership, and each of our car deal websites are 100% responsive. This ensures that every single visitor receives the exact same online experience, no matter where they are browsing your website from.
Lets Shoppers Browse Your Inventory
Our auto dealer websites include printer friendly vehicle pages, multiple photos for each vehicle, and an easy to use payment calculator. Allow visitors to shop by make/model/year and more, helping them to find their perfect car in your inventory. All of our car deal websites offer an easy to use CMS that allows you to quickly add or remove cars from your online inventory, ensuring that the selection is always fresh for your potential online shoppers.
Integrates With Carfax and Autocheck
Put potential customers minds at ease by allowing visitors to view and print carfax reports on the vehicles in your inventory. This service allows Carfax Advantage Dealers fully automatic inclusion of Carfax reports on their website without any additional work on the part of the dealer. Automatically display the "Show me the Carfax" badge on your website!
Converts Shoppers into Leads
Potential car buyers are browsing online, and your website helps to convert this potential customers into real leads. Customer leads are sent to you in real-time by e-mail and/or fax so you can respond immediately, and can even include which car they are currently interested in. Reach leads when they are most ready to buy, and start seeing more sales in your pipeline.
Encourages Social Media Interaction
Social media are connected to more potential buyers through their friends, family, and co-workers. Connect with more car shoppers and increase your sales by using the website's integrated social media networking features such as Facebook, Twitter, and "e-mail a friend."
Securely Takes Credit Applications
Your car dealer website needs to work for you, and what better way than to collect interested buyer leads then by taking secure credit applications right from your website. Receive credit apps in real time and respond to these potential leads when the moment is right.