Responsive
Website Design
A website design is critical in defining your online presence. Your website acts as the "online face" of your company, and your design can either increase site traffic or drive it away.
We produce interactive, search optimized websites.

Our websites convert more visitors into real clients.

Engage visitors with well written, rich content.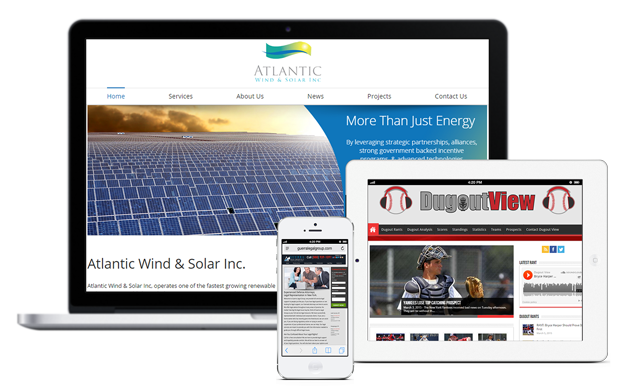 TAKE YOUR BUSINESS TO THE NEXT LEVEL
A Great Web Design Converts
Your website visitors will immediately judge your company by the look of the website alone. After all, this is possibly the first time they have seen or heard of your business. Aginto Solutions understands the importance of visual appeal, and we know the factors that change visitors, into customers. With thousands of custom website designs to our credit, we know how to create the right look and feel for you and your business.
We design websites that are inspiring, functional, easy to navigate and rank high in search engines to bring you more traffic and ultimately more customers. We will bring your ideas to life and provide your small business with a website that will allow you to take full advantage of the internet.
Our team builds custom, responsive websites for businesses that are tailored to your ideal customers, and are designed to convert visitors into customers whether they are browsing at an office or from the mobile phones or tablets.
Businesses can no longer get by on having a single web designer use basic html to produce a converting website. With the evolution of the web itself, the way companies prioritize quality design for their websites has changed dramatically. Our team at Aginto Solutions has the knowledge and skill to create your professional website design, that will show you a quality return on your investment.
We Build Successful Partnerships
[layerslider id="4″]

Industries We Serve
We're leaders in our industry by being experts in yours.
Online Marketing Strategies That
Deliver Real Results
Responsive Website Design
Your customers are mobile, so your website needs to be as well. At Aginto Solutions, we design websites that beautifully flow across mobile devices, desktops, and laptops, so that your webforms, content, and calls to action work seamlessly, no matter what device is being used. Potential customers are browsing online for your products and services through multiple avenues. Aginto prepares you to capitalize on more customers and stay ahead of your competition.
Convert Your Visitors into Customers
Our unique and professional website design and development process enables us to tell your story and to build your brand in a compelling way. At Aginto, we don't just create great looking websites. Rather, we create web experiences that bring out your company's brand character, lead visitors through an interactive experience, and ultimately into more web conversions. We know that you only have two seconds to impress, so we design in a way that engages visitors from the moment that they arrive.
Custom & Tailored to Your Business
As the Internet market continues to expand, the look and feel of your business's online identity becomes increasingly important and that's why you need one of the best firms to get the job done. It is our web design agency's priority to understand your business's products, goals, and philosophy before creating your website. Before we can create the mind blowing award winning designs we talk about, we must join your team. Our success is measured by results, and in order to maximize your ROI, we strive to learn, meet, and exceed your marketing goals.
Target Your Ideal Customers
Whether you're revamping an old website or creating a new one, the project must be designed to cater to your ideal customer. When a visitor comes to your site, the ultimate goal is to convert this visitor into a new customer, and then into a raving fan. To do this, we work with you to define your ideal customer, ensuring that your website is a high powered converting machine. Our best web designers are ready to transform your business's online presence. Get your free web design quote today.