Social Media Marketing
Social media marketing is a valuable means of creating brand awareness in an increasingly digital age. Are you joining in the #conversation?
Engage with potential clients in real time..

Encourage online reviews from your clients.

Attract more clients with sales announcements.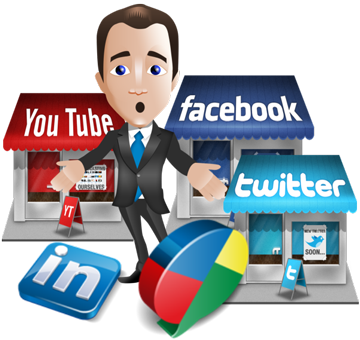 Social Media Marketing Your Business
Social Media Marketing
It's no secret that social media is a great way to connect with your customers, but it is also a great way to find new customers. Studies have shown that almost 75% of adults and 85% of young adults who use the internet, use it for social media. This means that this where your customers are and where you need to reach out to them. Social media, in all its forms, are here to stay, and consumers love connecting with their favorites companies just as much as they like connecting with their friends.
As an added bonus, social media feels less formal that your official webpage, and opens the lines of communications, so customers can air grievances, say thank you, and share your with their friends.
Building Your Social Profile
Almost every social network now has tools that make it easy for you to pinpoint your demographic, but it can still be difficult to know exactly where you need to place ads, who you want to connect with, what kind of content to post, and how often to post that content. That's where we come in. Aginto Solutions knows how that social media is an important tool, and we also know that you may not have the time to invest in building a functional, effective social media marketing campaign.
The right plan can make all the difference; it can build your brand, improve your customer service, find new customers, and even improve your search engine rankings. We have the expertise to craft that plan, taking the goals of your company and the needs of your customers into consideration. We then implement that plan, building a page that reflects the spirit of your brand, encouraging past customers and site visitors to connect with you, and placing strategic ads to help build your visibility.
The Bottom Line
Don't be left in the dust! Your competition may already be taking advantage of everything social media has to offer. Just because you may not have the time to run a campaign yourself, doesn't mean you should have one. Contact us today!
Request a Free Quote
Managing Your Connections
But even all of this will fail to improve your business if your page is not regularly updated with relevant content. Don't worry, we don't abandon you once your campaign is in motion! We ensure that your social media page has the best management, to post content that your followers will love and that will encourage them to return to your page again and again.
As with everything, there is a balance. We will never flood your page with too many updates, annoying your followers with too much content. Instead, we will use our knowledge and expertise to gauge how and when to update so that it will have the biggest impact on your customers.