Florida home and office repair company partners with Aginto Solutions to increase revenues and improve conversions.
Expert home remodel and repair contractors, Honey Do Home Repair specialized in residential repairs for Manatee County, Florida residents. But with the majority of their business coming from HomeAdvisor, and with every potential customer being bombarded with other HomeAdvisor contractors in the area, owner Joe LaBreaque needed to find business elsewhere. There are many home repair competitors in the South Florida area, and Honey Do Home Repair needed to distinguish themselves as the top provider for this area.
They decided to move into a new marketing strategy for the company, with a website and internet marketing strategy that would bring leads directly to them. With leads not being called by multiple other contractors when they were ready to buy, they felt they could earn more business from the local market.


Honey Do Home Repair is a full-service home repair company specializing in home remodeling, painting and home repair in the Manatee & Sarasota County areas.
Offering a diverse list of services with experienced crews to handle all of your basic household handymen needs, Honey Do Home Repair is your trusted home repair service so you don't have to do-it-yourself!
Joe was primarily looking for an increase in qualified, local leads from the Manatee County and Sarasota areas, as well as a website that could generate those leads for them.
To do this, Aginto Solutions began the project, applying our multi-faceted digital marketing strategy tailored to Honey Do Home Repair's specific needs.
Following the website development, and implementation of our strategy, Honey Do saw a tremendous increase in new organic traffic, which then contributed to an equally impressive increase in conversions. Over the past 6 months, Aginto Solutions has generated a 344% increase in qualified leads for the Bradenton based company.
Increase in Traffic
Quarterly Results
Increase in Leads
Quarterly Results
Increase in Quarterly Revenue
Quarterly Results
The Challenge
As a growing local company in a highly competitive industry, Honey Do Home Repair faced several marketing challenges. They needed a strategic positioning and messaging plan that would resonate with their targeted audience, educate their prospects, and position them as a respected and trusted leader in their industry.
With the home repair industry having so many categories and potential project opportunities, it was imperative for Honey Do to have a solid digital strategy and reputation. Since the keywords for their industry are so broad, focusing on earning first page rankings with a website setup to convert website traffic was job number one.
In order to attract and convert prospects and position Honey Do as a trusted solution in the local market, Aginto create content campaigns centered on educating residents on DIY home repair projects, warning signs, and answers to common questions. We wrote blog articles and eBooks focused around targeted topics to increase their organic website traffic, and to demonstrate their knowledge in the industry. Combined with social media to reach targeted prospects in the area, Honey Do quickly became the 'go-to' contractor for Manatee County residents.
Today, they continue to see a direct connection between the content marketing and search marketing strategies, and their qualified website leads.
"Working with Aginto Solutions to transition and update my website was an absolute delight! Seeing how organized and on top of the game they are gave me confidence that I could focus on my business, knowing that they were taking care of the details and then some."
— Joe LaBreaque
Founder, Honey Do Home Repairs
Confidence in Partnering with Aginto for Business Growth
By creating a strategic marketing plan with specific, measurable goals and a defined course of action, Honey Do Home Repair was able to see a drastic increase in revenue. Monthly sales goals were set to determine the number of customers internet marketing would need to generate. Conversion rates were also set to define the amount of website traffic and leads that would be needed to achieve customer and sales goals. The results were a steady, daily dose of qualified leads that were not only ready to buy, but exclusively ready to buy from Honey Do Home Repair.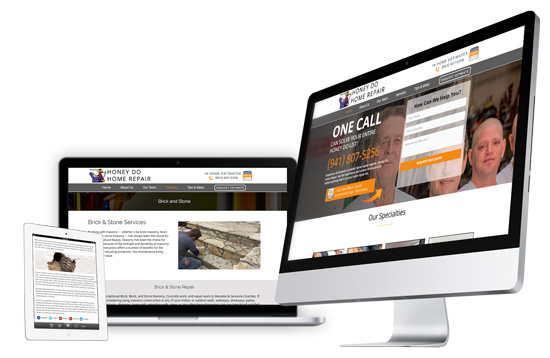 If So, Click Here
Do you want more prospects, more clients, & more revenue?
Aginto Solutions has the team of aggressive marketers to maximize your results.
If So, Click Here