South Florida Screen Company Grows Sales and Increases Market Share by Switching to Aginto Solutions
Since 2006, Gulf Coast Screens has been a leader in retractable screens and awnings in the South Florida regions. As a provider of superior products and customer service, they traditionally relied on word of mouth referrals to generate new business. As they began to expand in the Florida market, they wanted to use their website as the primary lead generation tool for their business to scale. Their existing website and marketing strategy limited their ability to reach more prospective customers outside of their local county. In February 2014, they partnered with Aginto Solutions to improve their marketing results and have seen great success within the first year. They've seen their amount of qualified leads improve by more than 50% – All generated from the website.
Increase in Traffic
First Six Months
Increase in Leads
First Six Months
Increased Revenue from Leads
First Six Months

As leaders in the retractable screen industry, Gulf Coast Retractable Screens offer homeowners and businesses custom screen products including motorized retractable screens, retractable door screens, custom shades, and retractable awnings. No matter what your screen needs are, they have a product that will make your space more comfortable, bug-free,
& made of superior quality.
Challenges Prior to Partnering with Aginto
Sarasota business owner Chris Cervini and his company; Gulf Coast Retractable Screens; knew that in order to reach their organizational growth goals, they had to make changes to improve their digital presence. Their website was not properly optimized completely, which made it difficult for search engines to find and list their site properly.
In addition, they received very few leads online because there was only a single place that visitors could convert on, their 'Contact Us' page, which is considered a bottom-of-the-funnel action that a only small group of web visitors (about 2%) are ready to take.
In order to better reach the ideal type of potential client and to bring them to their website, Cervini sought a solution that would provide them with more highly qualified website visitors, and in turn, capture new leads that were currently in the market for his products.
From the beginning of their work with Aginto Solutions, their consultant was instrumental in helping them get off and running. He looked at every aspect of their website to diagnose missing key SEO elements, and made sure they were setup properly to get found by search engines for important terms and topics in the screening and awning industry.
Next, to generate more leads who were in the earlier stages of research, their consultant recommended implementing contact forms on each page, along with Call-To-Actions to capture leads when a web visitor was currently researching their products and services.
Lastly, a pay-per-click campaign was put in place, to increase the regional growth of the business, and attract qualified prospects from outside of their county and local area. Today they continue to see a direct correlation between their PPC marketing, and their web leads, and are pleased to have experienced a 120% increase in web traffic throughout all of 2014.
"Your ongoing efforts to market my business through the website and get us more exposure online are really paying off. I can honestly say, without the website and marketing efforts of Aginto Solutions, I literally wouldn't do half of the business I do."
–Chris Cervini
Owner, Gulf Coast Screens
Confidence in Partnering with Aginto for Business Growth
Chris Cervini and his team now have complete confidence that their marketing campaigns are reaching the right person, at the right time. Unlike their previous marketing efforts, their pay-per-click marketing brings web traffic that is not only targeted, but also encourages visitors to make contact at the moment they are most interested in buying.
As a result of partnering with Aginto over the past year, Gulf Coast Screens has seen marked growth in terms of web traffic, leads and revenue generated. On their website, traffic grew tenfold, leads increased 50% and as a result of inbound leads, they've generated over $230K in revenue since March 2014.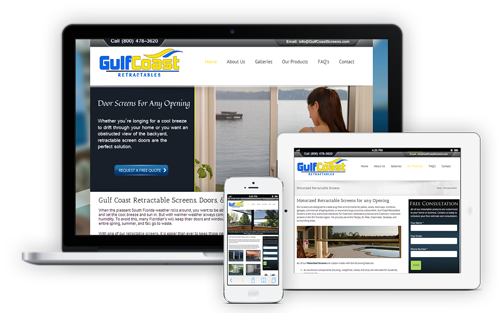 If So, Click Here
Do you want more prospects, more clients, & more revenue?
Aginto Solutions has the team of aggressive marketers to maximize your results.
If So, Click Here