Case Studies
Anderson Insurance Group – Manatee County, Florida
South Florida Insurance Agency partners with Aginto Solutions to increase revenue in 2015
Since opening in 1985, Anderson Insurance Group helps clients from their Palmetto, Florida offices with all types of personal and commercial insurance. The agency is licensed throughout the state of Florida, and was highly respected throughout the city of Palmetto. Their current website had become outdated, and their search results seemed stagnant and solely based in their local community. In addition, they were receiving nearly no new business through the web, and had no processes to track their marketing initiatives. Wanting to increase their growth by at least 25% annually, Anderson Insurance partnered with Aginto Solutions in March of 2015. In the months since, they've seen their search rankings skyrocket throughout all of Manatee County, stretching into the neighboring cities of Bradenton, Ellenton, and Parrish, in addition to dominating their current city of Palmetto. Their blog and social media accounts have become the standard for consumer insurance information, positioning them as the experts and a trusted source in the local area for personal and commercial insurance.
The result has been an increase in qualified leads by more than 40%, and a growth in quarterly revenue by more than 35% to date, all from their online marketing channels.
Increase in Traffic
Quarterly Results
Increase in Leads
Quarterly Results
Increase in Quarterly Revenue
Quarterly Results

Anderson & Associates is your local Palmetto Insurance Agency for all of your insurance needs. They have experts ready to help you with your homeowners insurance palmetto, life, health, flood insurance, mobile home insurance, car insurance, liability, and much more. Contact their friendly staff today for a free quote on your insurance policies.
Challenges Prior to Partnering with Aginto
With the company growing at a steady pace over the last decade, the management at Anderson & Associates noticed that seemingly none of their business was coming from their online resources. Most of their new business inquiries were being acquired via referrals and networking events.
In addition, while they were receiving the lion's share of the website traffic in their local community, website visitors were quickly bouncing off of the website and likely going to a competitor's site. None of the website visitors were reaching out to them through the website, and they hadn't received a quote request online in months.
In order to reach more targeted leaded online, they needed a strategy that would attract the ideal potential new client to website, and a site that convert those visitors into quote requests and soon, paying clients.
From the beginning of their partnership with Aginto Solutions, their consultant was instrumental in helping them get off and running. A new website was developed to help them with missing key SEO elements, ensuring that while their search rankings were improving, and traffic was increasing, the website would convert a higher number of visitors into quote requests or incoming phone calls.
Next, to generate more leads who were in the earlier stages of insurance research, their consultant recommended implementing contact forms on each page, along with Call-To-Actions to capture leads when a web visitor was currently researching their own insurance coverage needs, encouraging more visitors to convert into potential new clients.
Lastly, a content marketing plan was put into action, and new content, blog articles, and answers to frequently asked questions are constantly added to the website. A Facebook marketing strategy was implemented, driving traffic from Facebook from targeted individuals who have a need for new or higher value insurance coverage. Today, they continue to see a direct connection between the content marketing and search marketing strategies, and their web leads. They are experiencing an increase in qualified leads by more than 40% and continue to increase that number each month.
"We're receiving qualified leads from both the website and via phone calls from new clients everyday, all of them having found us online. It's been a fantastic addition to our business, and we're growing rapidly because of it."
— S. Anderson
Marketing Director, Anderson & Associates Insurance Group
Confidence in Partnering with Aginto for Business Growth
Shelli Anderson and the team at Anderson & Associates now have complete confidence that their marketing campaigns are reaching the right potential new clients, at the right time. Unlike their previous marketing efforts, with their digital marketing brings web traffic that is targeted, and their website is now better equipped to encourage visitors to make contact at the moment they are most interested in requesting quotes.
As a result of partnering with Aginto Solutions over the past years, Anderson & Associates has seen huge growth in terms of web traffic, leads, and revenue generated.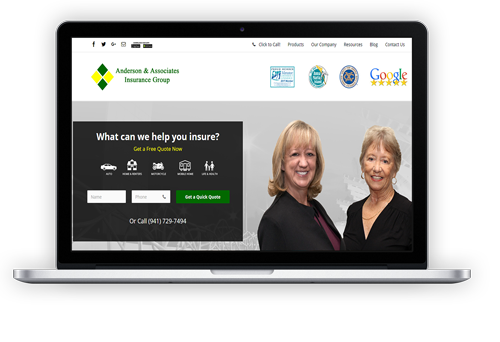 If So, Click Here
Do you want more prospects, more clients, & more revenue?
Aginto Solutions has the team of aggressive marketers to maximize your results.
If So, Click Here