Florida consumer defense firm partners with Aginto Solutions and continues growth into 2015
Established in 2010, Alliance Legal Group has been a staple in consumer foreclosure defense, including loan modifications, exit strategies, and assistance with short sales throughout the entire state of Florida. The firm's mission statement is to be "client focused, and integrity driven," and the company has grown with that mindset. Saving homes for Florida families, against large banks and lenders. As they began to expand in the Florida regions, they wanted to use their website as the primary lead generation tool in order for their business to scale. Their existing website had great content, but their marketing strategy limited their ability to reach more prospective customers who were looking for attorneys in their practice areas. In January 2013, the firm partnered with Aginto Solutions to improve their marketing results and expand their footprint throughout the state. In the two years since, Alliance Legal Group has grown into a powerhouse of attorneys, fighting for clients here in Florida. The firm now operates 8 office locations, in various locations up and down the state. They've seen their amount of qualified leads improve by more than 70% – All generated through their website.
Increase in Traffic
Annual Results
Increase in Leads
Annual Results
Increase in Quarterly Revenue
Quarterly Results
Alliance Legal Group's practice is devoted to helping homeowners facing mortgage difficulties. If a homeowner needs assistance negotiating with their mortgage company or is facing foreclosure, Alliance Legal Group will educate
and defend their rights to attempt
to obtain the best possible outcome
for their clients. The firm also
regularly speaks at Foreclosure
Prevention Workshops and
educates the public about the
foreclosure crisis and their rights.
Challenges Prior to Partnering with Aginto
In 2013, Roderick Kabel was hired to lead Alliance Legal Group's marketing team and discovered several inefficiencies in their marketing and online sales process. The marketing team was working with Reach Local for Google Pay-Per-Click and lead generation, but found the system so difficult to use that they ended never knowing what leads were coming from where, and how much their client costs per acquisition actually were.
In addition, while they received a good amount of leads online, the quality of the leads were subpar because there was only a single place that visitors could convert on, their 'Contact Us' page, which is considered a bottom-of-the-funnel action that a only small group of web visitors (about 2%) are ready to take.
In order to better reach the ideal type of potential client and to bring them to their website, Kabel needed a solution that would provide them with more highly qualified website visitors, and in turn, capture new leads that were currently in the market for their practice areas.
From the beginning of their partnership with Aginto Solutions, their consultant was instrumental in helping them get off and running. He looked at every aspect of their website to diagnose missing key SEO elements, and made sure they were developer properly to be found by search engines for important terms and keywords in the foreclosure defense industry.
Next, to generate more leads who were in the earlier stages of research, their consultant recommended implementing contact forms on each page, along with Call-To-Actions to capture leads when a web visitor was currently researching their own foreclosure defense, encouraging more visitors to convert into potential new clients.
Lastly, the pay-per-click campaign was revamped, to increase the growth of the business, and attract real qualified prospects from the entire state of Florida. Today they continue to see a direct correlation between their PPC marketing, their new contact forms, and their web leads, and are pleased to have experienced a 450% increase in web traffic throughout all of 2014.
"I'm receiving calls from potential new clients that I would never have reached before partnering with Aginto. They are the best web marketing company I've ever
worked with, hands down."
— R. Kabel
Marketing Director, Alliance Legal Group
Confidence in Partnering with Aginto for Business Growth
Roderick Kabel and the attorneys at Alliance Legal Group now have complete confidence that their marketing campaigns are reaching the right potential homeowner, at the right time. Unlike their previous marketing efforts, with their pay-per-click marketing bringing web traffic that is targeted, their website is now better equipped to encourage visitors to make contact at the moment they are most interested in scheduling consultations.
As a result of partnering with Aginto Solutions over the past two years, Alliance has seen huge growth in terms of web traffic, leads, and revenue generated.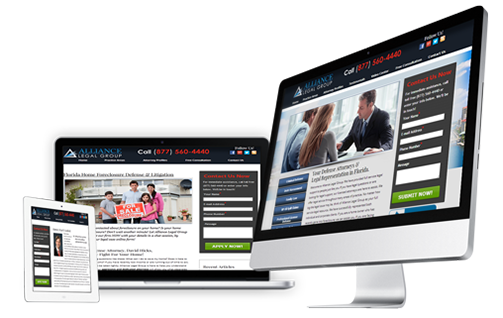 If So, Click Here
Do you want more prospects, more clients, & more revenue?
Aginto Solutions has the team of aggressive marketers to maximize your results.
If So, Click Here